We are living in the 21st century, the year 2021, and if you still think that digital marketing is just about creating your website, hoping consumers to land there out of nowhere, then you are living in a dream which can turn into a nightmare anytime soon.

Digital marketing essentials include search engine optimization (SEO), pay-per-click (PPC), content marketing, advertising, e-mail marketing, and last but foremost, social media marketing. To put it simply you cannot expect to reap the benefits of digital marketing without operating social media in the right way.
Social media marketing or SMM is a kind of internet marketing where social media is used to meet our marketing and advertising goals. Some of the tools used inhere includes text and images update, videos and other forms of content such as social media paid advertising to drive consumer traffic.
This article will let you know the role of social media in digital marketing and how it helps your business to grow effectively.
Improved marketing strategies: What is social media all about? People share what is happening in their lives dependent on their privacy concerns. This helps you get a little glimpse of what your audience is engaging with, in their everyday lives which can greatly enhance your digital marketing strategy creation. You can analyze the likes and dislikes of your audience to find your potential consumers and can create content for what they want to see.
Increased sales: This is something that every business owner wants to hear. Creatively making engaging content on social platforms will draw consumers towards you. Your goal is to be that brand that comes into the mind of the consumers first whenever they wish to buy something that you sell. Social media helps you with this, if they see you everywhere there are high chances of them buying your products. Potential consumers are present everywhere on social media; all you need to do is find them.
Improved consumer satisfaction: Gone are the days when advertising was done through SMS, television, and newspapers. People today would never want to engage with your firm if you resolve their queries in days or even hours. Social network websites are two-way communication channels that help you interact with your customers and resolve their queries. It provides an opportunity to quickly respond to the feedback given by your users. If the feedback is negative, try to fix their problem and remove the negatives budding around your brand so that your positives can be highlighted. People love when their voices are heard and taken action for, do it for them.
Improved brand awareness: "Fish where the fishes abound" and consumers are present on social media most of their time. So your presence on social media will increase your brand visibility and awareness. Most consumers search on the web and social media before buying any product. If they found your content online to be engaging and meaningful they will relate to it and possibly buy what you sell. Update all the details about your business on your social media profile which will create trust in the mind of your consumers in such a way, that they not only avail of your services once but every time.
Enhance SEO rankings: Social networking platforms does not directly affect your SEO rankings, but these days it has started playing an essential role indirectly in respect of it. No one can deny that social media is one of the best content-sharing platforms online, therefore when people share your website links, it is bound to build increase website traffic helping you stand out from the crowd. As a result, the search engine is bound to rank higher whenever there are any relevant searches highly swelling your online presence.
Increase your overall ROI: Social media marketing is one of the most cost-effective digital marketing strategies. You can sign up to most of the social media platforms for free. It helps to increase your return on investment because it often ends up giving you more revenue than what you had invested in ads. You can target thousands of people on social by just a single ad.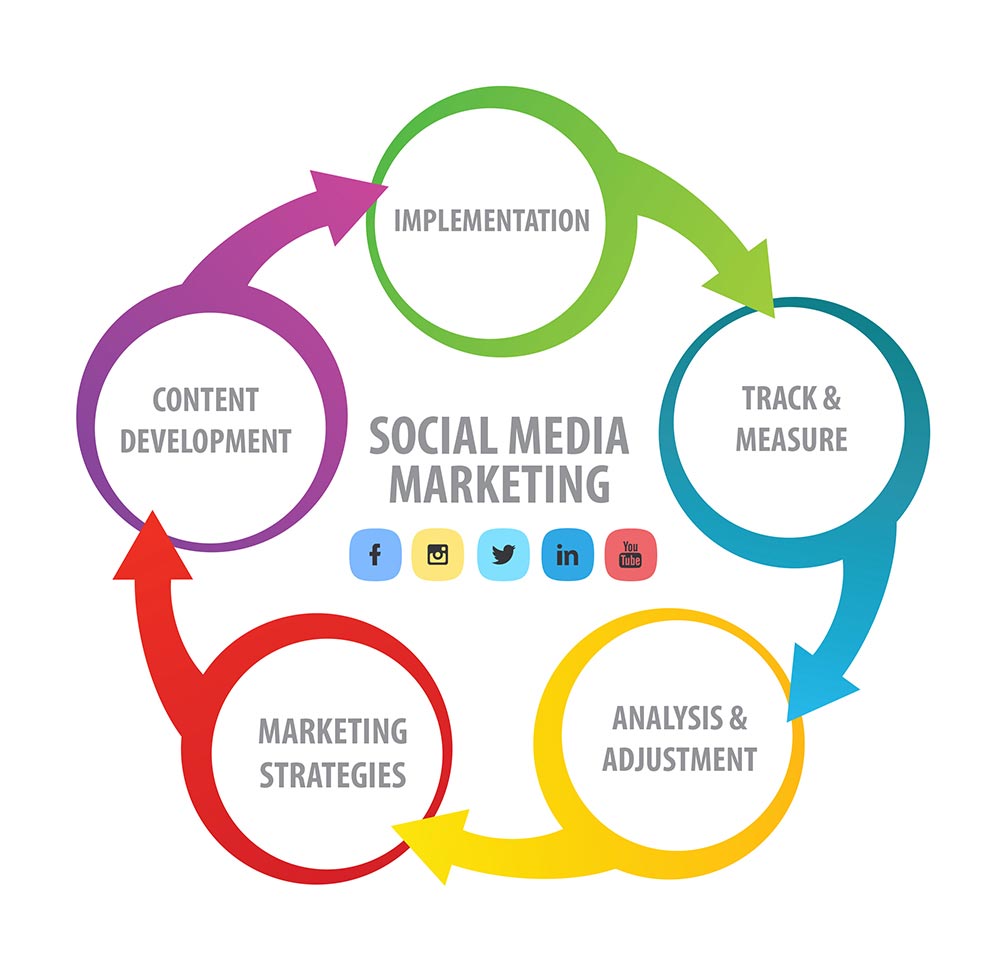 DEECRO SOCIAL MEDIA MARKETING AGENCY SERVICES
Digital marketing has changed like day and night since the past decade or so. It is not just about creating your websites and updating blogs anymore. Other strategies also need to be incorporated for your business to get on the top of where you want to be and social media is fast becoming one of the most important of all of them. If you don't have a social media presence thinking that it is just the place for sharing memes and viral videos, then you are doing injustice to your business by restricting its growth.
The services provided by Deecro Marketing Agency are not just limited to random Facebook posts updating offers provided by your business. We understand that the heart of a successful social media campaign depends on curating meaningful, compelling, and visually appalling content for the audience. With this understanding, we make out the perfect social media tools for your need.
We will analyze your position on social media to understand which practices are right and what the things to be worked on are. Whether it is Facebook, Linked In, Twitter, or Instagram, people are everywhere looking for and sharing brands. They put immense trust in the reviews and feedback provided by existing users. This clearly shows why social media marketing is too much to ignore.
The professionals at Deecro not just want your business to survive but to thrive! Using the traditional marketing methods can never guarantee the survival of your business, let alone thrive. Now is the right time for you to reach out to us to establish your brand on social media and connect with your social butterfly audience.